Banking and Financial Services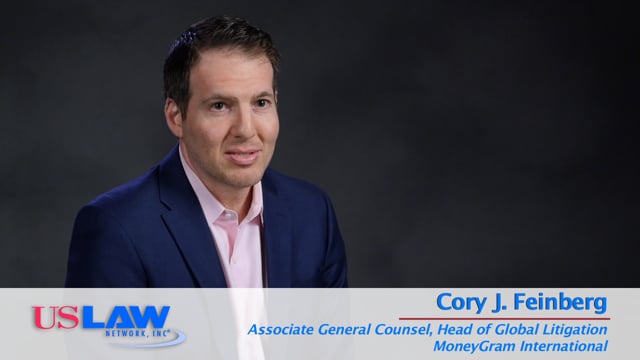 The USLAW Banking and Financial Services Community offers clients a one-stop network of attorneys who thoroughly understand financial services and banking laws on a nationwide basis – and in some cases our group's attorneys may have played a major role in helping to shape them. Our member attorneys stay current on general banking, financial services and regulatory matters, trends and laws in order to deliver relevant information to clients who use the NETWORK.
Practice Group Client Advisors
USLAW NETWORK Practice Group Client Advisors participate within the practice groups where they most closely align. These advisors offer important experiences and share insights with designated USLAW practice groups. Practice Group Client Advisors for this group are:
Brad R. Bergmooser – VP and General Counsel, Baxter Credit Union
Michael  M. Choy – Senior Vice President and Senior Counsel Manager, First-Citizens Bank and Trust Company
Christopher Lenhart -Senior Vice President, Deputy General Counsel, U.S. Bank
Why Choose USLAW Banking and Financial Services Law Firms?
Our network of USLAW Banking and Financial Services attorneys assists banks and other financial institutions including traditional banks, insurance companies, and non-bank lenders through all phases of the credit life cycle as well as applicable regulatory compliance issues.  The scope and quality of our work reflects a high level of familiarity with the credit structures and the issues confronting the finance industry. We assist financial institutions and borrowers in a wide variety of credit transactions, including corporate lending, secured and unsecured lending, equipment leasing, tax-exempt transactions, project financing, and letter-of-credit transactions.
Should the need arise, we offer banks and other financial institutions skilled, practical, and efficient representation to enforce their rights and remedies in state or federal court, regularly representing secured and unsecured creditors including banks, factors, insurance companies, manufacturers and other business clients in bankruptcy and workout matters.  We provide for our lender-clients' needs on all levels, from defending lender liability actions, to enforcing rights against borrowers in state courts and before the federal (including bankruptcy) courts.
Our group of USLAW Banking and Financial Services attorneys maintains working relationships with both state and federal regulators so we can effectively assist clients with services ranging from mergers and acquisitions to regulatory compliance and restructuring. Whether a client is a local community bank or a financial institution with assets ranging from several million to many billions of dollars, an insurance company or an online banking organization, clients can rely on the USLAW Banking and Financial Services attorneys for resources and guidance with their transactional and compliance needs.
Areas of Practice
Member firms are experienced in working with clients in a variety of matters, including:
Bankruptcy
Broker-dealer formation, registration, operation, compliance
Commercial lending
Dodd-Frank
Federal and state securities regulation
Foreclosures and asset liquidation
Formations and capital raising alternatives
International joint ventures with foreign brokers
Management buyouts
Mergers, acquisitions and divestitures
Operations and Payments
Public finance
Public policy
Regulatory compliance
SEC compliance and reporting
Venture capital finance
Workouts