Professional Liability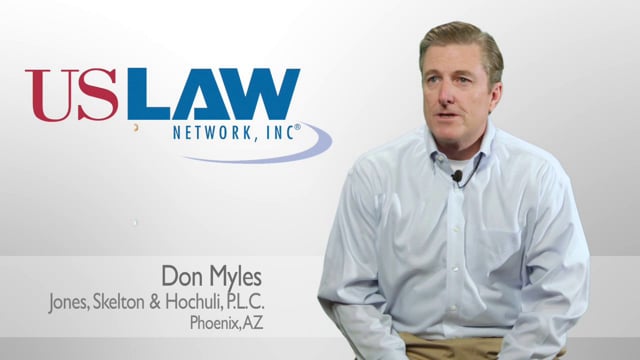 Across the country, USLAW NETWORK member firms represent licensed professionals in liability matters. Our affiliated professionals in more than 100 law firms bring extensive experience representing lawyers, doctors, accountants and tax professionals, directors and officers, real estate professionals, and insurance brokers.
Collectively, we offer clients who work with our NETWORK a national footprint of veteran attorneys with deep knowledge, skills and experience in professional liability issues handled on behalf of clients and insurance companies.
Practice Group Client Advisors
USLAW NETWORK Practice Group Client Advisors participate within the practice groups where they most closely align. These advisors offer important experiences and share insights with designated USLAW practice groups. Practice Group Client Advisors for this group are:
Karen Angelbeck – Vice President, Triton Global
Alicia R. Bromfield – Vice President, Claims, Ironshore
Wendy L. Harris – Senior Claims Specialist, Pharmacists Mutual Insurance Company
Joshua E. Kranz – Vice President, Professional Liability, Everest National Insurance Company
Matthew Panagiotis – Corporate Claims Counsel – Risk, DaVita Healthcare Partners, Inc.
Jodi L. Schruers – Senior Corporate Counsel, Claims, Sanford Health
Caryn M. Silverman – Senior Vice President, Endurance Services Limited
Why Choose USLAW Professional Liability Law Firms?
As a USLAW practice group, we work together to stay ahead of issues emerging in professional liability, to educate each other on innovative strategies to mitigate risk and exposure for our clients and assist each other in the vigorous defense of liability claims.
We also offer our clients – both those of our individual firms and those who use numerous USLAW firms – ongoing education through seminars, handbooks, and roundtables designed to keep our clients out in front of emerging issues.
We work collaboratively with our other partners in USLAW, in partnership with other NETWORK practice groups and our member firms, to seamlessly serve clients with national and multi-jurisdictional needs.  We provide our individual firm clients with a vetted short-list of quality law firms not only capable and competent to handle their issues, but also committed to serving them in a responsive manner.
Areas of Practice
Our group of seasoned professionals works nationwide on behalf of clients and insurance companies in the defense of professional liability claims against:
Accountants and tax professionals
Architects & Engineers
Lawyers
Directors and officers (D&O)
Real estate professionals
Financial advisors and professionals
Healthcare professionals, including medical doctors, nurses, psychologies, psychiatrists, physical therapists, hospitals, nursing homes, residential treatment facilities, and veterinarians.