Workers' Compensation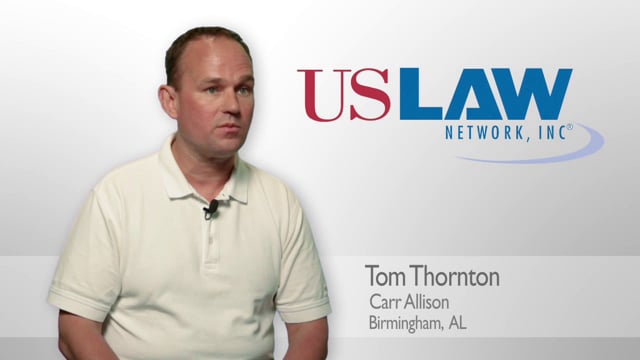 The USLAW NETWORK Worker's Comp Community offers a global network of attorneys who assist clients with creating, managing, implementing and updating employee guidelines and polices as well as defending any workplace-related complaints. Through information exchanges, idea sharing and policy updating, our attorneys remain current with the latest issues facing the work environment – from both the employee and employer perspective – so they can best assist all clients with questions and case-related issues.
Practice Group Client Advisors
USLAW NETWORK Practice Group Client Advisors participate within the practice groups where they most closely align. These advisors offer important experiences and share insights with designated USLAW practice groups. Practice Group Client Advisors for this group are:
Paul Brandel – Risk and Claims Manager, Eby-Brown Company, LLC
Lisa A. Dillard – Director of Risk Management, Dave & Buster's
Sandy Rosenwinkle – Workers' Compensation Claim Manager, Transdev
Why Choose USLAW NETWORK Worker's Comp Law Firms?
Our attorneys represent public and private employers of all sizes, whether union or nonunion, insurance carriers, self-insured employers/servicing agents, and uninsured employers in all manner of workers' compensation cases. We offer extensive experience in the defense of all types of employment-related lawsuits and grievances. Whether a client needs drafting, revising, and updating personnel policies, employee handbooks, employment contracts, severance agreements, contractor agreements, non-competition/non-solicitation/confidentiality agreements, and other employment-related documents reflecting the individual employer's unique needs and preferences, we have a network of attorneys able to provide legal counsel. While workers' compensation laws seek to protect employees, USLAW attorneys helps to shield our clients from abuses of the system, ensuring fair and just awards for employers and insurance companies.
Areas of Practice
USLAW Worker's Comp attorneys defend and provide legal counsel on a wide range of worker's compensation cases on issues related to:
ADA
ADEA
Arbitration
Collective bargaining
EEOC
Employment Security
ERISA
FMLA
MSHA
NLRA
NLRB
OSHA
Union campaigning and elections
Wage & Hour
WARN
And other employment-related state and federal laws